16 November 2023
Denmark funds BRIC cancer research projects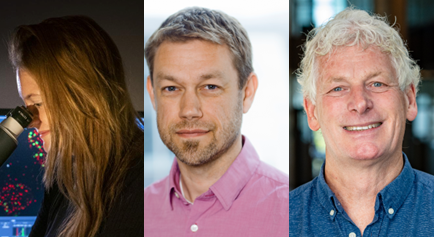 Thanks to the generous donations made during the 2023 Knæk Cancer show last month, run by Danish Cancer Society and TV2, BRIC researchers Fena Ochs, Niels Behrendt and Jesper Andersen have received funding for exciting research projects that will progress the fight against cancer.
New Super-Resolution Microscope for Better Understanding of Hereditary Breast and Ovarian Cancer (Fena Ochs)
The project by BRIC group leader Fena Ochs aims at unravelling the molecular mechanisms of breast and ovarian cancer: "We are incredibly grateful for the funding received by Knæk Cancer. In our project, we will use cutting-edge microscopy approaches to understand the development of hereditary breast and ovarian cancer, which will enable new treatment strategies", says Fena Ochs, BRIC group leader.
New Method for Early Detection of Liver Cancer (Jesper Andersen)
BRIC group leader Jesper Andersen's project aims to diagnose patients with liver cancer much earlier – at a stage where they can still be cured: "New research results have shown that certain chemical substances from the liver's metabolism change during the development of liver cancer. By measuring these chemical substances in blood samples, we will investigate whether we can detect liver cancer early", says Jesper Andersen.
New Targeted Treatment for Sarcomas (Niels Behrendt)
The research project by Finsen Laboratory / BRIC group leader Niels Behrendt aims to develop a new treatment method for Sacromas (a group of rare cancers) using "Antibody-Drug-Conjugate" (ADC), where cancer cells are targeted with a powerful chemotherapy - contributing to better treatment of patients with sarcomas in the long run.
"Due to the fact that Sacromas are a rare group of cancers, researching new forms of treatment has been underprioritized – however, Sacromas are very aggressive and have a high mortality, and therefore there is a strong need for new therapeutic approaches", says Niels Behrendt.
Thanks to everyone who donated to the Knæk Cancer show.
For more information about BRIC research, click here
Topics