Outreach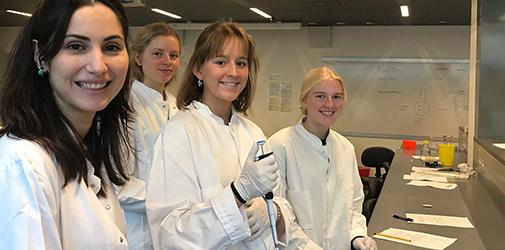 BRIC wants to contribute to an interactive dialogue with the surrounding society on research. We offer a number of initiatives and activities with the purpose of enhancing the public understanding of our science and its value to society.
For schools
BRIC offers a two day SRP course for high school students who are interested in including a lab experiment in their assignment. During the two days, the students perform a pre-planned experiment in our labs and analyze the results under guidance from BRIC researchers. The students can then include the data from the experiment in their assignment in the way, they choose.
PLEASE NOTE: Unfortunately, it is not possible to sign up for the SRP course at BRIC in 2021
In collaboration with partners from UCPH, Herlev Gentofte Hospital and Roskilde High School, BRIC has produced a set of online teaching materials for high school students that includes background articles, exercises, video material as well as teacher guidelines, suggested course plans and suggested further readings.  The aim of the project is to give students insights into how genomic data is analyzed and used in conjunction with cancer research and the development of precision treatment from basic research to the clinic. The materials are free of charge and BRIC hosts annual workshops where teachers can be trained in the use of the materials. Find the material "Dataanalyse & Kræft" here (website and material in Danish)
BMS Life science Talent program

Along with American pharmaceutical company Bristol-Myers Squibb (BMS), Faculty of Health and Medicinal sciences, UCPH and Fonden for Fonden for Entreprenørskab, BRIC has launched a special life science talent program at two Danish High Schools in Nærum and Herlufsholm.
The aim of the talent program is to foster the Danish life science entrepreneurs of tomorrow, by providing education at an elite level within the areas of life science and natural science. The program is organized in two tailored lines of education, and the enrolled students will receive education from the University of Copenhagen, Bristol-Myers Squibb, Fonden for Entreprenørskab and leading bioentrepreneurs. Furthermore, they will have the chance to on international study tours and to win a Life Science Award of DKK 25.000.  The program at both schools lasts three years – from first to senior year and runs during the academic years of 2018/2019, 2019/2020 and 2020/2021.
As project partner BRIC will support the teachers from the two schools in developing teaching material, supply data and case material that can support and strengthen the teaching, and contribute to the annual "life science event day".
All teaching materials are to be published and become available to other Danish High Schools.