7 June 2023
Illuminating the Cellular World - A Portrait of New Group Leader Fena Ochs
NEW GROUP LEADER
Fena Ochs, new Group Leader and Associate Professor at the Biotech Research & Innovation Centre (BRIC) in Copenhagen has a passion for unraveling the spatiotemporal mechanisms of cellular processes in health and disease.
"I am a strong believer that your microenvironment shapes you. Therefore, I looked for an inspiring, creative and driven environment to start my lab, filled with complimentary techniques and expertise to my own.", Fena Ochs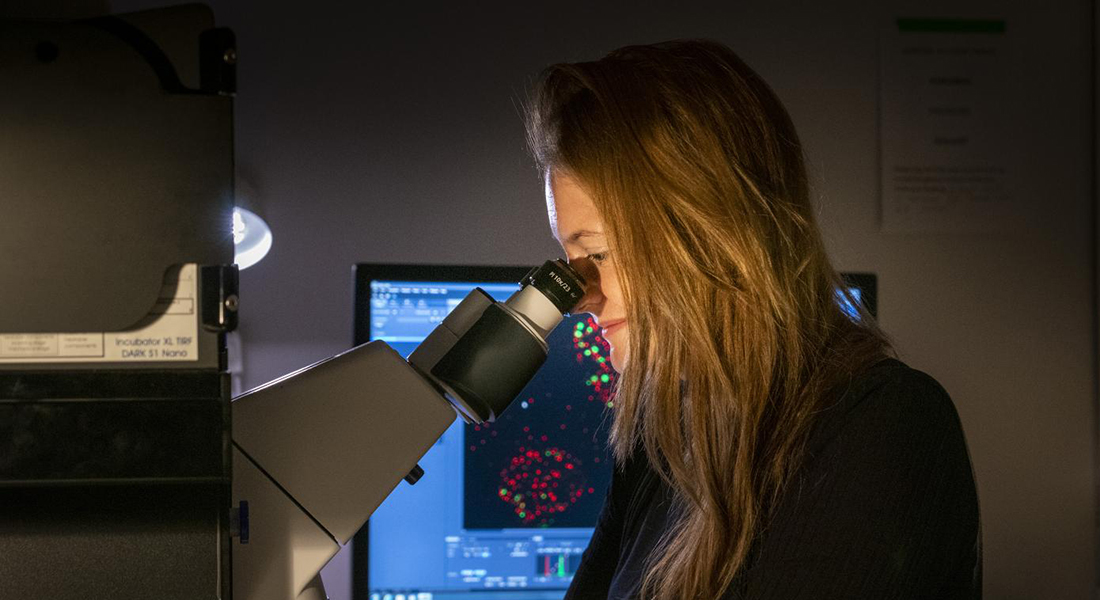 Journey to Group Leadership
Fena's scientific journey began during her Master's project at Rockefeller University, where she had the chance to join the lab of renowned scientist Titia de Lange. "I had the opportunity to join a buzzing and vibrant lab environment to work on my first-ever own project," recalls Fena, reminiscing about her time investigating the protection of telomeres. This experience laid the foundation for her future endeavors.
She continued her academic pursuit with a PhD in Jiri Lukas' lab at CPR in Copenhagen, immersing herself in the study of DNA damage response and genome stability. Fena's interest for microscopy blossomed during this period, as she collaborated closely with her mentors. "Jiri and my PhD supervisor Claudia Lukas put a lot of trust in me and gave me the freedom to immerse myself in learning cutting-edge microscopy approaches," shares Fena. Their groundbreaking work in identifying the role of the tumor suppressor protein 53BP1 and the link between 3D chromatin organization and high-fidelity repair was published in Nature.
Continuing her scientific journey, Fena joined the lab of Kim Nasmyth at the University of Oxford as a Postdoctoral Fellow. Here, she pushed the boundaries of super-resolution microscopy technology further to single molecule imaging. Armed with her expertise and passion, Fena now aims to establish her own research program at BRIC, bringing advanced imaging techniques and her knowledge of genome maintenance and 3D chromatin organization to tackle key biomedical questions.
Research Vision and Alignment with BRIC
"One of the great technological advances in the last years has been the development of super-resolution microscopy and its application to biological samples. I have been lucky to be at the forefront of this technological development." Fena Ochs
Fena Ochs's research vision is centered on the transformative power of super-resolution microscopy. "In my lab we will work at the interface of biology, biomedicine, and physics to develop cutting-edge microscopy approaches and AI-driven analysis tools for biomedical images," explains Fena. She is excited about the possibilities that live imaging of molecular processes in the 3D chromatin space of cells offers, enabling her to study the coupling of DNA repair and 3D chromatin organization in unprecedented detail. By unraveling the dysregulation of these processes in diseases, particularly cancer and developmental disorders, Fena hopes to contribute to the development of new clinical strategies.
"I am excited to start my research group at BRIC and to establish our super-resolution microscopy technology as a platform for the study of a broad variety of questions addressing health and disease. I am convinced that the combination of advanced imaging with the single cell techniques already established and developed at BRIC, will be powerful for us as a research community to tackle the key biomedical questions of our time."
Choosing BRIC and Fostering Collaboration
Fena's decision to conduct her research at BRIC was driven by the palpable enthusiasm she encountered during her interview process. "From the moment I interviewed, I felt the enthusiasm, starting from the director, to the admin team, group leaders, students, and Postdocs," shares Fena. She recognized BRIC as an inspiring, creative, and driven environment that perfectly align with her scientific vision and her interest for science education. "What is great about BRIC is that it attracts international talent through dedicated PhD and Postdoc programs and its international faculty. It furthermore works at the intersection of basic research, the clinics and biotech scene, and I am already now before officially starting setting up many collaborations within BRIC to benefit from this interdisciplinary and tie my lab into it."
To nurture a supportive lab environment, Fena draws from her own experiences with mentors throughout her career, with special roles of her Master Project and PhD supervisors Titia de Lange and Jiri Lukas, who "played a crucial role in shaping my scientific thinking and career". She intends to incorporate strong mentorship practices within her lab, providing guidance and support to her team members as they navigate their scientific paths.


Beyond the Lab: The Person behind the Group Leader
Fena Ochs is 33 years old and lives with her partner and young son. In addition to her academic pursuits, she has a passion for cooking and reveals that she has always wanted to write a cookbook. With her family, Fena is excited about relocating to Copenhagen, where they can enjoy the calm and outdoorsy lifestyle that Denmark offers.
Topics