11 December 2012
PhD-Prize from the Danish Academy of Natural Sciences to Kristine Williams
PhD-Prize from the Danish Academy of Natural Sciences to Kristine Williams

Kristine Williams, PhD from Helin Group has been awarded the PhD prize from the Danish Academy of natural science.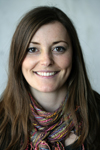 Kristine receives the prize for her unique work on TET1 and hydroxymethylcytosine, and the important Nature paper that came from this work in 2011; a paper that has received 91 citations within the last 1.5 year. The work has contributed significantly to understand how DNA methylation patterns are regulated in normal cells, and how mutations in specific genes regulating this can lead to cancer. Besides, the Academy also emphasises Kristine´s work on the histone lysine demethylase JMJD3 and a well written PhD thesis.
Kristine is currently on maternity leave, and employed as post doc in the Helin lab.
The Academy (Danmarks Naturvidenskabelige Akademi) is a research political organization that strives to promote natural science through meetings, courses and distribution of research political publications and to enhance understanding between researchers and society. The academy consists of a broad circle of active researchers at universities and colleges from all over the country.