BRIC celebrates Brain awareness week 2021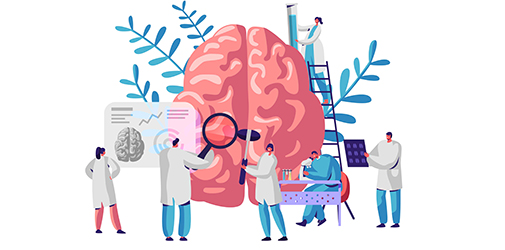 Brain Awareness Week is an annual global campaign to foster public enthusiasm and support for brain science. In 2021 the Brain Awareness Week takes place from March 15-21.
BRIC will celebrate the week by posting videos, news and events related to neuro science throughout the week. Stay tuned!
Day 1:
How to build a healthy brain
Today, we mark the beginning of the week with a new video from Khodosevich group on brain development and neuro disease.
About the Khodosevich group
The Khodosevich group at BRIC studies how the brain develops and the causes of disorders such as schizophrenia, autism and epilepsy.
The members of the Khodosevich group are passionate about science communication. They have established a tradition of explaining their findings in cartoons that masterfully combine art with science. See their cartoons here, and become acquainted with the Khodosevich group on their website or twitter account. 
Day 2: A year of neuro- and brain cancer research at BRIC
It is day 2 of Brain Awareness Week 2021 and today we look back at the highlights of the past year within the field of neuro- and brain cancer research. Despite the difficult circumstances of the lockdown, some fantastic scientific results have been made!

Day 3: The right moves - How your brain controls your movements (for kids)
It's video time again! This video is made by the BRIC outreach initiative "Science for Children" and explains how our brain controls movements, and how this can be impaired and cause disease.
The Science4Children programme is an initiative started by young researchers at BRIC. The aim of the programme is to contribute to the quality of biology teaching in primary schools and is targeted for children aged 7-11 in Danish international schools. It is designed to implement inquiry-based learning which stimulates a scientific way of thinking in pupils, while maintaining the fun. 
For several years the initiative has collaborated with Rygaards International School and has carried out teaching at the school as well as lab-based-workshops at BRIC. The video "The Right Moves" has been produced as alternative to on-site-teaching due to the COVID- lockdown.
Day 4: Do you want to spend your summer as a brain scientist?
Research centre BRIC at the University of Copenhagen offers 4 summer internships for ambitious high school students with an interest in neuro science.
Are you a high school student with biotechnology or biology at A or B level? Have you just completed 2.G and would you be interested in spending part of your summer at an international research center at the University of Copenhagen? Do you want to take part in real research projects, learn about brain development and neuro disease and get an insight into the everyday life of a university researcher? Then, you should apply for a summer internship in the Khodosevich group! 
Day 5: Danish Single Cell Network launches new website to expand single cell technology in Denmark and beyond
Single-cell technology is a powerful tool to study the cellular composition of tissues. It is especially useful to investigate the highly heterogenic cell types of the brain and how they are affected in disease condition.
In 2016 Khodosevich and Pers groups from the UCPH BRIC and Novo Nordisk Foundation Center for Basic Metabolic Research, founded the Danish Single Cell Network to expand the knowledge and use of the new and promising single-cell sequencing technology. The network kicked off in January 2017 with a monthly seminar series consisting of progress reports, technology updates, keynote and industry speakers. Now, five years later, the Danish Single-Cell Network has more than 200 members, representing academic labs in all major Danish Universities (University of Copenhagen, Aarhus University, University of Southern Denmark, Danish Technical University, Aalborg University) and industrial partners. Today, the network launches a new website as part of their strategy to further expand the technology in Denmark and internationally.  We asked the founders of the network group to answer a few questions about the network.
Visit the Danish Single Cell Network Website here