In Vivo Imaging (IVIS)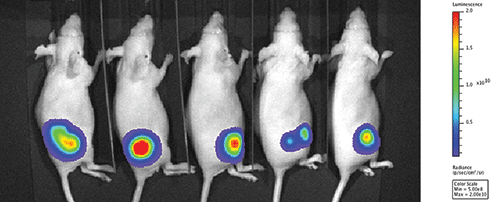 The facility consists of an In Vivo Imaging System (IVIS) Lumina II (Perkin Elmer) that allows the detection and quantification of luminescent or fluorescent signals.
The system consists of an IVIS detection unit + an isoflurane based anesthesia unit (chamber + IVIS) and is located in the Biocenter animal facility.
All research groups at BRIC and FINSEN can use the system, as well as other groups upon agreement with the facility.
The facility only provides access to the IVIS system and data analysis software (no experiment performed for subparties). Before being granted access to the system, a referent person for the team MUST be trained.
The facility provides reagents necessary to the use of the machine on the exception of luciferin (that can be purchased separately from the facility). The facility also provides scientific support on specific projects.
Contact

Christophe Côme
Christophe.come@bric.ku.dk
+45 3545-5713 
BRIC - Biotech Research & Innovation Centre
Ole Maaløes Vej 5
DK-2200 Copenhagen

Procedure room 1 of the Biocenter animal facility